Pool Depth Markers and Pool Side Warning Markers
(49714)
Pool depths can be deceiving.
Pool Depth Markers
make sure no one dives in to the shallow end & no young children swim too far in to the deep end.
• Bright, bold pool depth markers are printed with black characters on a white background, for great visibility
• Just peel off the backing and apply these pool depth markers to the floor. Install on any smooth, clean surface. Much easier to read than stencils. Adheres well to tile, desks, or concrete.
• Tough, anti-skid vinyl features a pebbled, grip surface.
• Browse our customers' favorite signs below to get started.
• For more information, visit our - Pool Markers FAQs
Look for this Symbol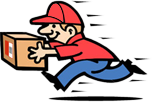 Ships Today
. Order within
00 hrs 00 mins
---
Pool Marker Categories
(50011)
Frequently Asked Questions
Q.
 Will your Pool Markers present a slipping hazard?
A.
Not at all! Constructed from 20 mil thick non-skid vinyl, our Pool Markers have a pebbled surface that helps prevent slips and skids. The thin profile of these markers minimizes the tripping hazard, which helps create a well-marked and safe pool facility.
Q.
How frequently will I have to replace these Pool Depth Markers?
A.
Our Pool Depth Markers are made specifically for daily use near water. These durable vinyl markers feature an acrylic adhesive backing that ensures a secure, waterproof bond on most poolside surfaces. You won't have to worry about deterioration or losing your sign in the pool. The 20 mil thick markers stick close to the surface and promise at least 2-year outdoor durability. Our Pool Depth Markers are suitable for long-term use, even in high-traffic areas. You may watch this video to learn more about our SlipSafe Pool Markers.
Q.
Are Pool Safety Markers available?
A.
Yes, they are. Our collection of Pool Safety Markers (or Pool Rules Markers) features designs that prohibit everything from diving and running to glassware and swimming alone. We also have markers to warn against the slipping hazard and indicate limited liability protection.
Q.
How do I install my Pool Depth Marker?
A.
Installing our Pool Depth Markers is extremely easy. All you need to do is simply peel off the backing and apply the pool depth marker where desired. The markers are designed to install smooth and clean surfaces such as tiles, decks, etc. Please note that the markers may not stick well on textured or bumpy surfaces, especially if water can seep through, causing the marker to lift off the surface.
Q.
Will I get a special discount if I order Pool Markers in bulk?
A.
We offer a quantity-based discount that automatically applies when an item is purchased in bulk. This incentive results in a decreased cost per unit of goods or materials when purchased in greater numbers. All the items must be of the same design, size, material, color, and print for a bulk discount.
Q.
What is your return policy?
A.
If your order does not satisfy you, please call us within 60 days of order receipt to return undamaged, unused stock products. We do not accept returns of custom products, international orders, or returns made more than 60 days after delivery.
Customer Reviews